In today's economy saving some money by installing your own furnace may seem like a great idea, but installing a gas furnace yourself is not a matter of joke. install a gas furnace properly takes years of practice, and faulty installation can lead to severe problems, from inefficient performance and high utility bills to deadly carbon monoxide leak and above all increased risk of a fire breakout, especially if you are working with natural gas and electricity.
So, is it legal to install your own furnace? No, It is illegal, Installing a furnace on your own. Installing or replacing a furnace needs to be done by professionals. A homeowner should always hire a licensed HVAC professional for this job. This is not at all a job, even for the most DIY enthusiast. You need a permit to install a furnace. Natural gas / Electric furnace installation is illegal without a licensed contractor.
The installation procedure of a furnace requires significant experience of sheet metal work, electrical work, and also some experiences on plumbing. To install a new furnace or to replace one, even a professional has to go through a complex process, and that is why only licensed HVAC professionals have the needed permits in your state.
Furnace work is dangerous because your furnace runs on fuel like natural gas or oil. The exhaust can be extremely dangerous if the furnace isn't tuned properly.
Switching from a gas furnace to an electric furnace or vice versa will make the process even more complicated. HVAC experts undergo severe training just after completing their associate degree programs.
They are put into training on how to handle any emergency that may occur during the installation process. In most states of the U.S, technicians must also be licensed for the particular area they work in.
How to Install a New Furnace?
This includes the process of how to replace a furnace..
Before starting installing a new furnace, Make sure all electrical and gas supplies are totally turned off. It is extremely dangerous to leave gas or power of the old furnace unit while uninstalling to replace it with the new one. This is the most important thing and can not be overlooked under any circumstances. Once all the utilities are turned off, it is then safe to remove the old furnace.
The HVAC professional should always wear protective gear and gloves before removing the old furnace to avoid getting cut by the metal sheet. All gas supplies and electric wires need to be disconnected, followed by detaching and removing ductwork, and vent pipes.
Preparing the Area for Installing New Furnace
After uninstalling the old furnace the technician will for the HVAC technician need to thoroughly clean the area where the new furnace will be installed. Any sort of dirt or dust in the area need to be vacuumed up. When you are spending all that money on a new furnace, you will never want it to be contaminated with dust at the time of installation.
Once the area is absolutely clean, it is now time for your HVAC expert to begin the installation process for the new furnace. At first, The wires, ductwork, and pipes will be attached to your new furnace. Next, the thermostat will be connected and the power and the gas supplies are turned on. Now its time for the technician to test the system and check for any leaks in ductwork.
Having a gas furnace installed, all of the gas supply lines need to be inspected for leaks. All connections, even those to the AC unit must be inspected for leaks. The furnace itself must also be thoroughly examined for carbon monoxide leaks and other gas discharges, needless to say, everything must be done by an HVAC expert, as this whole process requires proper knowledge and gears.
Top 3 Best Selling Home Furnaces on the Internet
Image
Product
Details  
Price
Rinnai EX11CT Direct Vent Wall Furnace
Direct Vent Wall Furnace- Propane
Input Range- 5, 700 – 11, 000 BTU/hr
Check Price on Amazon
Dyna-Glo 30,000 BTU Natural Gas Blue Flame Vent Free Wall Heater, White
Natural Gas Ready (Fuel conversion not permitted)

Blue Flame Technology works as a central heating system
Check Price on Amazon
Dyna-Glo BFSS20NGT-2N 20,000 BTU Natural Gas Blue Flame Vent Free Wall Heater, White
Natural Gas Ready (Fuel conversion not permitted)

Blue Flame Technology works as a central heating system
Check Price on Amazon
I am using this furnace for the last 2 years in my new apartment without any issue. You can check this out on Amazon. Its called Rinnai FC824N Vent-Free Space Heater
| Image | Product | Details   | Price |
| --- | --- | --- | --- |
| | Rinnai FC824N Vent-Free Space Heater | Available both in Natural Gas and Propane | Check Price |
Leave The Installation to The Professionals
As a homeowner, you have the right to choose or decide what type of furnace will best accommodate your house and needs. Once you decide the unit, the rest should be left up to the professionals. Uninstalling your old furnace and installing the new one is a heavy and dangerous job. Even small yet countless mistakes can result in serious injuries or costly repairs.
Possible Problems Regarding DIY Furnace Installation
Installing a furnace is not easy, and it requires plenty of expertise and knowledge to do it correctly. Even HVAC contractors can make mistakes, and some mistakes, such as the incorrect installation of the gas connections, could have fatal outcomes. Here are some of the most common DIY furnace installation problems:
Combustion problems – If you do not install the furnace and exhaust vents properly, the furnace may produce excessive carbon monoxide during the combustion process. Excessive carbon monoxide can lead to illnesses or even death. Improper combustion or gas leaks can lead to a fire breakout.
Improper sizing – If you don't want your furnace to make a hole in your pocket and keeps on functioning efficiently, you must pick the right size of the furnace. Calculations must be performed keeping the factors in mind, like the size of your home, the number of rooms, room layout, window sizes, insulation quality, and more.
Reliability problems – If you install a furnace on your own and it came out incorrect, it will tend to break down more frequently and will have a shorter lifespan. On the other hand, the professional installation of your furnace can reduce repair costs and help you achieve the best performance and longest service life.
Warranty problems – Most furnace manufacturers expect professional installation to grant full warranty protection. If the furnace installation is done by yourself and there are problems in the future, it may not be covered by the warranty. This means you have to spend a huge sum of money in the future for the repairs, even if its a manufacturer defect.
Final Words
Saying that installing a furnace yourself is just not worth the risk. I will always suggest you go for a local professional HVAC contractor for all furnace installations, replacements, and maintenance. Click here to get free and cheap quotes from your local HVAC contractor.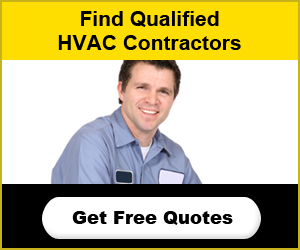 When I installed my 2nd furnace I went on the internet and found some quotes for the job. But to check out the company I worked with, click here and get a quote from them. You should neither give the bid to the lowest bidder nor to go with the highest bidder. Consider going with a medium one so that your work can be completed at a fair price. In this way, you will get quality work while at the same time not giving away half of your life's savings just on your new furnace.
The best thing about investing in furnace installation is that in most cases it is a one-time investment. Always try to take good care of your furnace after installation to get you many years of usage. For this particular reason, always prefer going with a professional, as you will not have to worry about any safety concerns and will have the enjoyment of a warm home for many coming years.
Before you go can you answer this question? Do You Need a Permit to Remodel & Drywall a Basement? Its always better to learn new things when it is connected to law and order.
FAQs.
Do I need a permit to install a furnace?
Yes, furnaces do fall into the permit zone. In most states, you need a permit to install a furnace. A permit is required by law for those who need to fully replace their old furnace or trying to install a new one furnace.
Do I need a permit to replace my HVAC?
Replacing your heater or A/C without a proper permit is against the law. Every licensed HVAC contractor is required and trained to get permits when replacing your system.
What is the average cost to replace a furnace?
In the USA, the national average cost of buying and installing a regular performing natural gas furnace ranges from $2,150 to $5,900 with most homeowners paying around $3,100. The price may vary based on the brand and the HVAC contractor.
How long does it take to install a furnace?
Average furnace installation can take 5-10 hours. The average A/C install 4-8 hours. A complete furnace and A/C project can take 9-13 hours.